Fry's, The Family Who Pioneered The Vegan Meat Scene In South Africa
Would you believe us if we told you that Wally Fry, the patriarch of the vegan meat brand Fry's Family, used to be a cattle trader?
"I was the furthest thing from a vegetarian you could imagine," he told the African continental publishing site Biz Community.
So far from a vegetarian that he had no idea what it meant, as he admitted to the South African publisher How We Made It In Africa, "I met my wife while I was a livestock agent and she was already a vegetarian. I didn't even know what a vegetarian was at the time."
Meeting his wife Debbie was just the beginning of his lesson about an animal-free philosophy, which later benefited millions around the world.
After Wally and Debbie got married, he worked in Debbie's dad's construction business and later opened his own business. One of the construction projects he helped build was a piggery.
What used to be a source of pride for the then young man later became a heartbreaking eye-opener for him. When he visited the piggery post-construction for an inspection, he was shocked to see the suffering of thousands of pigs.
Fry's fans not only have Debbie and the unfortunate piggery experience to thank, but also their eldest daughter Tammy for leading Wally to make the ethical connection and join his family in ditching meat (and later, animal products).
"She asked questions I didn't have the answers to. I started to do some research and was flabbergasted at the extent of biodiversity destruction as a direct result of livestock farming. It was an epiphany for me. Discovering alternative food sources to meat became a passion, a desire, a calling," - Wally explained to How we made it in Africa.
Made With Love & Plants
Knowing that no meat is worth the suffering and death imposed on innocent animals, Wally and Debbie worked day and night to recreate meats with wheat and soy proteins in their kitchen for their family to enjoy.
It was difficult since they had no one to go to for advice and thus had to figure out everything themselves.
"We were the pioneers of this, and we had to investigate everything, from the types of raw materials we could use to how we could mix them, heat them, what proportions to use and so on, to create a product that had the look and taste of meat," Wally, quoted by The Ceo Magazine.
Two years of experimentation fueled by determination paid off when they produced four vegan, non-GMO products.
From Their Kitchen To Yours
Seeing how much Fry's has grown now, none of us would be able to believe that the couple initially had no intentions of commercialising their homemade plant-based meats. Until a marketing specialist, who recognised the opportunity, convinced them to.
Thankfully, they decided to meet and provide samples to the food buyer of a large South African retailer, who liked the products and offered to stock Fry's products in 33 stores.
What followed were months of long hours at work, more experiments, hiring of new production employees, acquisition of second-hand machinery and spreading the word since there was no vegan market back in 1991 when Fry's was established.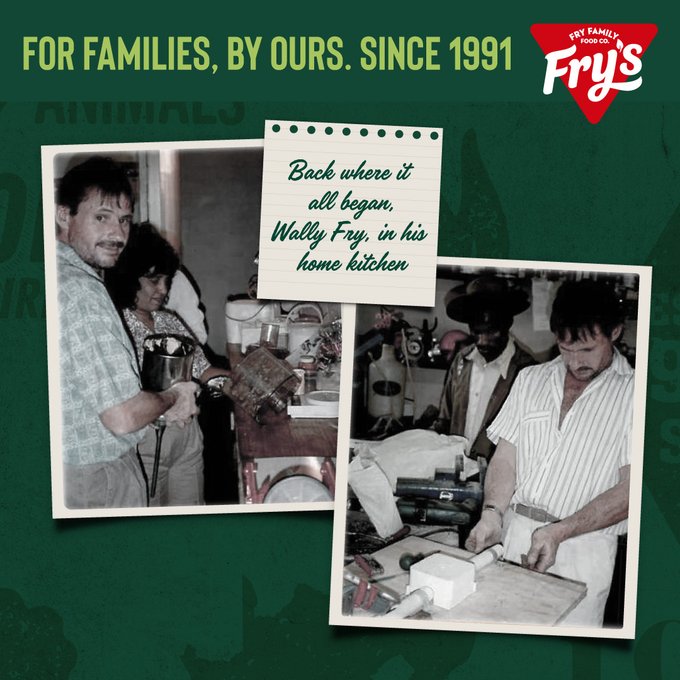 "It required us to spend hours on advocacy and showing people how tasty plant meats could be and how easily you could switch to a plant-based diet. This meant weekend markets, events, and shows – every weekend," Wally, quoted by Forbes.
Despite the resource constraints, Fry's has found itself stocked in several more retailers in South Africa, Australia, the UK and more over the years.
And 2009 marked the year the Fry's first animal-free custom-built 5000sqm factory was opened, which definitely helped with the significant increase in production.
Family Food For A Force For Good
The Fry's family went from being called crazy by others for making "plants that look and taste like meat in their kitchen" in 1991 to becoming a multigenerational family business leading the plant-based food industry globally.
Fry's is now being led by the second generation, carrying on the legacy of making delicious and nutritious plant-based food with love and passion. Such love and passion is crucial for making products that are 100% vegan, non-GMO, preservative-free, MSG-free and Halal-certified, as is the case with Fry's.
These products consist of a wide range of soy and wheat based sausages, burger patties, nuggets, meat strips, meatballs, minces, pastries, fillets and schnitzels that taste and feel like the "real" processed meats. 
No wonder they have bagged several awards like the Best Vegan "Meat" at the VegFestUK, top in the Plant-Based Food category at the 2020/2021 Symrise Food Review New Product Awards for their Big Fry Burger and one of Abillion's top 10 vegan burgers for their Chicken-Style Burger.
And we think they'll continue to receive more awards as they'll never stop improving their products. One such improvement that we can see now is reducing their plastic packaging. 
What's way more amazing though is that this story started with a man who, with the help of his family, left behind his heart wrenching past to shift to an ethical alternative.
"I'm just a lover of practising no harm. I have a great respect for life. Increasingly, people understand that what they do as individuals has a negative or positive impact on everything else," Wally.
Fry's Family Food is a brand that Vegan District has had since our beginning, and is a much loved 100% vegan brand by us and our customers. Click here to go to our collection.